Jordan Creek Pediatric Dentistry
1111 Jordan Creek Parkway,
West Des Moines IA 50266
(515) 222-1800
Find answers and other helpful dental topics in our digital library.
Posts for: April, 2013
By Jordan Creek Pediatric Dentistry
April 20, 2013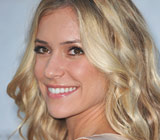 Kristin Cavallari's flawless smile has been featured on TV, film and magazine covers. But the 25-year-old actress and reality-show personality didn't always have a perfect set of teeth. In fact, she told Dear Doctor magazine — where readers recently voted to crown her with the "Smile of the Year" award — that her dental treatments began the same way many do: with orthodontics in sixth grade.
"I had the 'spaghetti catcher,' which is what everyone used to call it," she reminisced. But by that, she didn't mean a strainer — she's talking about what dentists call a "palatal expander."
In case you're not familiar with this orthodontic device, a palatal expander takes advantage of the natural growth patterns of a child's upper jaw to create additional space for the top set of teeth. How does it work? Basically, it's similar to braces: By applying gentle pressure, the appliance creates changes in the jaw. Unlike braces, however, it's invisible — it fits between the upper teeth, close to the roof of the mouth.
During the three to six months a child wears the palatal expander, it pushes the left and right halves of the upper jawbone apart, and then maintains and stabilizes the new, wider spacing. Since the palatal bones don't fuse until after puberty, tightening it a little bit each day for the first few weeks provides a quick and painless method of making the upper jaw a bit roomier. And that can be a very good thing. Why?
There are lots of reasons. For one, it can relieve the condition called "crowding," when there is not enough space in the upper jaw to accommodate the proper alignment of the permanent teeth. In the past, teeth often had to be extracted in that situation. It may even allow "impacted" teeth — ones which are blocked from erupting by other teeth — to come in normally.
It can help treat a "crossbite," when the back top teeth come down to bite inside (instead of outside) the lower back teeth. It also generally shortens the total time a child needs for orthodontic treatment. That's good news for any teenager — even if their own day-to-day "reality show" isn't featured on TV!
If you would like more information about palatal expanders, please contact us or schedule an appointment for a consultation. You can also learn more by reading the Dear Doctor magazine article "Palatal Expanders" and "Early Orthodontic Evaluation."
By Jordan Creek Pediatric Dentistry
April 05, 2013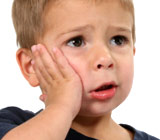 When it comes to childhood injuries — cuts and scrapes, growing pains, even wounded pride — it's often a parent's job to try and make things better. But sometimes it's hard to know whether the hurt indicates a serious problem, or if it's a situation that will resolve itself as soon as the sun comes up. If pain is being caused by a toothache, here are some general rules that can help you figure out what's the best thing to do.
1. Unless it's accompanied by fever and swelling, a child's toothache isn't generally an emergency.
The first thing to do is calm down (both you and the child) — and talk! Find out exactly where the pain comes from, and when and why it might have started. (Your child may have forgotten to tell you about that fall in the gym...) Sometimes, a little sleuthing will give you a clue about what's causing the pain.
2. Tooth decay, a bacteria-induced infection, is the most common cause of toothaches.
Check the teeth for brown spots or tiny holes (cavities) which might indicate decay — especially on the biting surfaces and in the areas between teeth. Next, look at the gums around the hurt tooth. If they show cuts or bruises, that's a sign of trauma. If you see only swelling, it may indicate the formation of an abscess.
3. If nothing looks obviously wrong, try gently flossing both sides of the tooth.
This may dislodge a bit of trapped food or candy, and relieve the pressure and soreness. But if that doesn't help, remember that some conditions — like nerve damage inside the tooth, for example — may have no apparent symptoms except pain.
4. Treat pain with an appropriate dose of acetaminophen or ibuprofen.
Base the dose on your child's age and weight, according to the medication's instructions. You can also apply an ice pack (one minute on, one minute off) to the outside of the jaw. But NEVER rub aspirin (or any painkiller) directly on a child's gums: It can cause burns and severe discomfort.
5. Pain that keeps a child awake at night, or persists into the next day, needs professional evaluation as soon as possible.
Otherwise, unless the pain resolves quickly and you're sure you know exactly what caused the toothache, it's best to bring your child in for an examination as soon as it's practical. You'll feel better having a dental professional, backed with years of experience and training, taking care of your child's health — and you just might prevent a future problem.
If you have questions about toothaches in children, please contact us or schedule an appointment for a consultation. You can learn more in the Dear Doctor magazine article "A Child's Toothache."