Jordan Creek Pediatric Dentistry
1111 Jordan Creek Parkway,
West Des Moines IA 50266
(515) 222-1800
Find answers and other helpful dental topics in our digital library.
Posts for: November, 2013
By Jordan Creek Pediatric Dentistry
November 27, 2013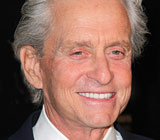 Actor Michael Douglas shocked TV audiences across the country when he announced on the David Letterman Show in 2010 that he has stage IV oral cancer. Fortunately, the cancer had not spread and his radiation and chemotherapy treatments were successful. This year, Douglas teamed up with the Oral Cancer Foundation to warn others about the dangers of the disease and the importance of early detection. In particular, he wants younger people to know that even if they don't smoke and drink a lot, as he admitted to Letterman that he did, they are still at risk.
As Douglas states in a PSA he made with the foundation, "the fastest growing segment of the people developing oral cancers are young, non smokers." That's due to a strain of the Human Papilloma Virus known as HPV16 that can be transmitted through oral sex. So it's important to avoid risky sexual behaviors and to be screened regularly for this devastating disease that claims one life every hour in the U.S., according to the Oral Cancer Foundation.
An oral cancer screening is a simple visual and tactile exam done right here at the dental office. We will feel your neck for lumps and inspect your lips and all inside surfaces of the mouth, including the back of your throat, for any suspicious signs. If any are found, a biopsy (laboratory analysis of a tissue sample) can be ordered.
Most oral cancers are "squamous" (small scale-shaped) cell carcinomas that occur in the lining of the mouth and are often preceded by recognizable changes (lesions) of the oral membranes. White or red patches begin to form in the pre-cancerous stage, and as the cancer develops, a non-healing ulcer may appear. If you notice any such changes in your mouth, please let us know.
Michael Douglas ends his PSA with the following plea: "So please, the next time you visit your dentist or your medical doctor, ask for this simple screening. Finding oral cancer in its earliest stages may save your life." We agree, which is why we always perform this screening during your regular dental check-up. If it's been a while since your last appointment, please come in and see us.
If you would like more information about oral cancer, please contact us or schedule an appointment for a consultation. You can learn more about the disease in the Dear Doctor magazine article "Oral Cancer."
By Jordan Creek Pediatric Dentistry
November 12, 2013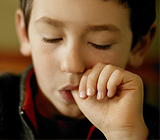 One of the most common parental concerns is the habit of many children, even late into childhood, to suck their thumbs or fingers. Many parents have asked us, "Could this affect their teeth?"
The answer, unfortunately, is yes — thumb sucking can contribute to a malocclusion (bad bite) that could eventually require orthodontic treatment. Before making any assumptions, however, we need to understand the bigger picture.
To begin with, infants have a different swallowing mechanism than adults and older children. When you as an adult swallow, you'll notice the tip of your tongue positions itself just above the back of the top front teeth. An infant, however, will thrust their tongue between their upper and lower jaw as they swallow (also known as an infantile swallowing pattern or primary tongue thrust). The infant normally begins changing to an adult swallowing pattern when their primary (baby) teeth begin to erupt.
However, if a child's swallowing transition is slower than normal and the tongue rests between the jaws for a longer duration, it can inhibit the full eruption of teeth, believed to be the main cause of an open bite (a gap between the upper and lower teeth when the jaws are shut). The thumb during sucking resting between the teeth can have the same effect.
Thumb sucking may not necessarily lead to a malocclusion — for example, an abnormally developing jawbone could be the culprit. If prolonged thumb sucking does become a concern, however, there are steps we can take to reduce the impact of the habit. We can install a thin metal "tongue crib" behind the upper and lower incisors that will not only discourage thumb sucking, but also help retrain the tongue not to rest between the upper and lower teeth. There are also exercise routines known as orofacial myofunctional therapy (OMT) that can retrain specific muscles in the mouth to encourage more normal chewing and swallowing patterns.
These steps may not prevent future orthodontic treatment, but they could reduce its extent. The key is regular dental checkups and consultation to ensure your child's teeth and bite are developing normally.
If you would like more information on the effects of chronic thumb sucking on the mouth, please contact us or schedule an appointment for a consultation. You can also learn more about this topic by reading the Dear Doctor magazine article "How Thumb Sucking Affects the Bite."