Jordan Creek Pediatric Dentistry
1111 Jordan Creek Parkway,
West Des Moines IA 50266
(515) 222-1800
Find answers and other helpful dental topics in our digital library.
Posts for: March, 2014
By Jordan Creek Pediatric Dentistry
March 18, 2014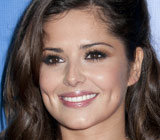 What if you had orthodontic treatments to enhance your smile — and nobody knew about it until it was all done?
That (almost) happened to British singer, cover girl and television personality Cheryl Cole. Since her big break in 2002, on the British reality show Popstars: The Rivals, Cole has had a successful music career, taken turns judging both the British and American versions of The X Factor, and graced the covers of fashion magazines like Elle and Harpers Bazaar.
And somewhere along the way, Cole wore an orthodontic appliance. It very nearly went undetected… until a colleague spilled the beans. That's when Cole was forced to divulge her secret: For a period of time, she had been wearing clear aligners on her teeth. Until her frenemy's revelation, only a few people knew — but when you compare the before-and-after pictures, the difference in her smile is clear.
So what exactly are clear aligners? Essentially, they consist of a series of thin plastic trays that are worn over the teeth for 22 hours each day. The trays are custom-made from a computerized model of an individual's mouth. Each tray is designed to move the teeth a small amount, and each is worn for two weeks before moving on to the next in the series. When the whole series is complete, the teeth will have shifted into their new (and better aligned) positions.
Besides being virtually unnoticeable, aligners are easy to remove. This makes it easy to keep the teeth clean — and can come in handy for important occasions (like cover-photo shoots and acceptance speeches). But don't remove them too frequently, or they won't work as planned. If that's a possibility (with teens, for example), aligners are available with "compliance indicators" to ensure they're being worn as often as they should be. They can also be made with special tabs to hold a place for teeth that haven't fully erupted (come in) yet — another feature that's handy for teens.
So if you need orthodontic work but prefer to stay "under the radar," ask us whether clear aligners could be right for you. Cheryl Cole did… and the results gave her something more to smile about.
If you would like more information on clear aligners, please contact us or schedule an appointment for a consultation. You can learn more about this topic in the Dear Doctor magazine articles "Clear Orthodontic Aligners" and "Clear Aligners for Teenagers."
By Jordan Creek Pediatric Dentistry
March 03, 2014
Clenching, or grinding of your teeth (also known as bruxing) are common habits. Biting forces are normally small, gentle, fleeting and very frequent throughout the day. In fact, it's the normal stimulus necessary to keep your teeth and jawbone healthy. When you clench or grind your teeth you apply forces up to ten times normal (in the 200 lb range). And it's not just the force, it's the duration and frequency with which they're applied. High forces lasting for seconds or minutes, frequently exerted, can affect some or all of the masticatory system. This includes the teeth, jaws, jaw joints and muscles, causing aching jaws, headaches, earaches, neck and even backaches; and the teeth themselves causing excessive wear, fractures, or even loose teeth.
Why does grinding occur? Habitual grinding is most frequently a reaction to stress. Sometimes abnormalities in your bite or malocclusion ("mal" – bad; "occlusion" – bite) can trigger clenching or grinding. It is normal for children to sometimes grind their teeth when new teeth are coming in, but it may be indications of stress too. You may be grinding your teeth subconsciously in your sleep, but it may be so loud as to awaken your sleeping partner. Or our office may be the first to suspect it during a dental exam because of the apparent signs of change to muscles, joints and teeth especially abnormal tooth wear.
What can be done about teeth grinding or bruxing? If you are symptomatic, having pain, muscle, joint or tooth soreness, the first step is to get you comfortable. Generally, a mild non-steroidal anti-inflammatory medication (aspirin, ibuprofen) and muscle relaxants will help in addition to moist heat and mild jaw exercises. Stress management is also helpful. To prevent further damage, we may recommend a bite guard made of wear-resistant plastic that fits over the biting surfaces of your upper teeth. These customized unobtrusive appliances when properly fitted and adjusted stop clenching and grinding activity, or at least the damage they can do. A bite guard can be worn day or night especially during stressful periods.
Contact us today to schedule an appointment to discuss your questions about stress and tooth grinding. You can also learn more by reading the Dear Doctor magazine article "Stress & Tooth Habits."