Jordan Creek Pediatric Dentistry
1111 Jordan Creek Parkway,
West Des Moines IA 50266
(515) 222-1800
Find answers and other helpful dental topics in our digital library.
Posts for: November, 2014
By Jordan Creek Pediatric Dentistry
November 26, 2014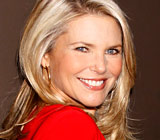 Christie Brinkley's world-famous smile has graced the covers of countless magazines for over 30 years. In fact, in her own words from an interview with Dear Doctor magazine, the supermodel said, "I think my smile was really my passport to success in the modeling industry." And while most of her smile's appeal comes naturally, Christie does give it a boost with good oral hygiene, regular dental checkups and tooth whitening. As Christie says, "When it comes to teeth, keep it as natural as possible. Do not go overboard on whitening. You want your teeth to compliment your face…your friends should not be required to wear sunglasses when you smile!"
Aside from some potential minor side effects such as tooth sensitivity, whitening teeth through bleaching is a relatively inexpensive way to brighten your smile conservatively and successfully. There are three common methods, as described below:
An external or vital approach where "vital" (living) teeth are bleached through direct contact to the tooth's surface.
An internal or non-vital approach where the tooth is whitened from the inside during a root canal treatment.
A combination approach in which both internal and external bleaching techniques are used.
But what causes teeth to become discolored?
Tooth discoloration can be caused by a traumatic blow to your teeth resulting in nerve tissue (pulp) death. However, there can be many other causes: consuming or using products that stain the teeth such as coffee, tea, cola, tobacco products and red wine, to name just a few. Aging is another factor, as it results in changes in the mineral structure of the tooth as the enamel, the outermost layer, loses its beautiful and youthful translucency. Other causes include exposure to high levels of fluoride; tetracycline, an antibiotic, administered during childhood; inherited developmental disorders and jaundice in childhood; and tooth decay.
The good news is that we routinely brighten smiles through tooth whitening. To learn more about brightening your smile, continue reading the Dear Doctor magazine article "Teeth Whitening." Or if you are ready to have your teeth professionally whitened, contact us today to schedule an appointment so that we can conduct a thorough examination and discuss your whitening treatment options. And if you want to read the entire feature article on Christie Brinkley, continue reading "The Secret Behind Christie Brinkley's Supermodel Smile."
By Jordan Creek Pediatric Dentistry
November 11, 2014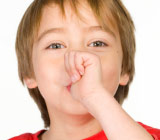 Are the following statements true or false?
Thumb sucking in children may cause problems with their teeth later on.
A: TRUE
Prolonged thumb sucking may be responsible for many problems with the bite. The constant pressure of the thumb itself can create a gap between the top and bottom teeth in front, a condition called an "open bite." It also reinforces the habit of using the "tongue thrust" motion in swallowing, where the tongue is positioned between top and bottom teeth. This habit may also block full eruption of the front teeth.
Infants and young children swallow exactly the same way that adults do.
A: FALSE
When they swallow, young children use what is called the "infantile swallowing pattern." In this method, which begins before their teeth have erupted, the tongue is thrust forward in the mouth, sealing and supporting the lips. In adult swallowing, the tongue touches the roof of the mouth, behind the front teeth. The transition from the infantile method usually happens naturally, by around age 4.
Most open bites result from the habit of positioning the tongue too far forward.
A: TRUE
Failure to transition between the infantile and adult swallowing pattern is believed to be the cause of most open bites. The tongue's position alone may prevent the front teeth from fully developing. Allowing the thumb to rest between the teeth has the same effect — and it can also push the front teeth forward. Other causes of an open bite are skeletal or jaw-related problems.
It is harder to cure open bites caused by thumb sucking or bad tongue position than those from other causes.
A: FALSE
Open bites that are caused by skeletal factors (patterns of bone growth, etc) are often difficult to resolve. Those caused by dental factors (tongue position, tooth eruption, etc) are generally easier to fix. However, the pressure exerted by the thumb over a long period of time can influence bone growth in the jaw.
There is a dental appliance that can help discourage thumb sucking.
A: TRUE
A thin metal "tongue crib" placed behind upper and lower incisors discourages the thumb-sucking habit. It also helps to "re-train" the tongue, keeping it from going between upper and lower teeth. To successfully treat an open bite caused by dental factors, and to prevent its reoccurrence, it is essential to eliminate the unhelpful habits of both the thumb and the tongue.
If you would like more information about thumb sucking or open-bite problems in children, please contact us or schedule an appointment for a consultation. You can also learn more about this topic by reading the Dear Doctor magazine article "How Thumb Sucking Affects The Bite."