Jordan Creek Pediatric Dentistry
1111 Jordan Creek Parkway,
West Des Moines IA 50266
(515) 222-1800
Find answers and other helpful dental topics in our digital library.
Posts for: November, 2015
By Jordan Creek Pediatric Dentistry
November 27, 2015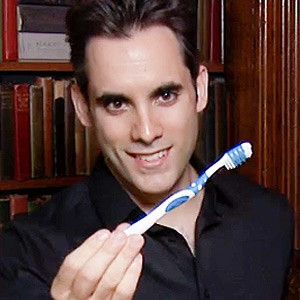 Magician Michel Grandinetti can levitate a 500-pound motorcycle, melt into a 7-foot-tall wall of solid steel, and make borrowed rings vanish and reappear baked inside bread. Yet the master illusionist admits to being in awe of the magic that dentists perform when it comes to transforming smiles. In fact, he told an interviewer that it's "way more important magic than walking through a steel wall because you're affecting people's health… people's confidence, and you're really allowing people to… feel good about themselves."
Michael speaks from experience. As a teenager, his own smile was enhanced through orthodontic treatment. Considering the career path he chose for himself — performing for multitudes both live and on TV — he calls wearing an orthodontic device (braces) to align his crooked teeth "life-changing." He relies on his welcoming, slightly mischievous smile to welcome audiences and make the initial human connection.
A beautiful smile is definitely an asset regardless of whether you're performing for thousands, passing another individual on a sidewalk or even, research suggests, interviewing for a job. Like Michael, however, some of us need a little help creating ours. If something about your teeth or gums is making you self-conscious and preventing you from smiling as broadly as you could be, we have plenty of solutions up our sleeve. Some of the most popular include:
Tooth Whitening. Professional whitening in the dental office achieves faster results than doing it yourself at home, but either approach can noticeably brighten your smile.
Bonding. A tooth-colored composite resin can be bonded to a tooth to replace missing tooth structure, such a chip.
Veneers. This is a hard, thin shell of tooth-colored material bonded to the front surface of a tooth to change its color, shape, size and/or length; mask dental imperfections like stains, cracks, or chips, and compensating for excessive gum tissue.
Crowns. Sometimes too much of a tooth is lost due to decay or trauma to support a veneer. Instead, capping it with a natural-looking porcelain crown can achieve the same types of improvements. A crown covers the entire tooth replacing more of its natural structure than a veneer does.
If you would like more information about ways in which you can transform your smile, please contact us or schedule an appointment for a consultation. You can also learn more about the techniques mentioned above by reading the Dear Doctor magazine articles "Teeth Whitening," "Repairing Chipped Teeth," and "Porcelain Crowns & Veneers."
By Jordan Creek Pediatric Dentistry
November 12, 2015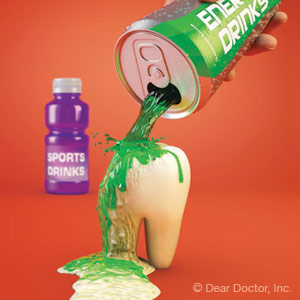 Tooth enamel erosion is a serious issue for many children that can result in permanent impairment of oral health. The problem isn't just bacterial acid that causes tooth decay — it's also the high acid content of sodas, energy and sports drinks widely popular among children and teenagers today.
Enamel is made of the strongest substance in the human body, which enables it to shield the inner layers of the teeth from disease and other environmental factors. Its chief nemesis, though, is acid: when enamel interacts with high concentrations of acid for a prolonged time, its mineral content will begin to soften and dissolve, a process known as de-mineralization. Saliva is the enamel's main protection against acid with the ability to neutralize (or buffer) acid and restore some of the enamel's mineral content, usually within thirty minutes to an hour after we eat.
The high acid content of many popular beverages, however, can overwhelm saliva's buffering ability, especially if a person is sipping for an extended time on an acidic drink. This kind of exposure is different from acid produced by bacteria that causes tooth decay: bacterial acid tends to concentrate in specific areas of the teeth, while the constant wash from acidic beverages will have a more generalized eroding effect on teeth.
This level of enamel loss is irreversible, which can leave a tooth in peril of decay and ultimate loss — and increase long-term dental care and costs. The best strategy is to have your child stop or significantly curtail drinking highly acidic beverages. Rather than drink sports beverages for hydration, substitute water, nature's hydrator. Milk can also be a viable beverage substitute.
If you do allow some acidic beverages, try to limit them to mealtimes and discourage extended sipping. Look for drinks with added calcium as this can reduce the beverage's erosive potential. The goal is to reduce the amount and duration beverage acid is in contact with tooth enamel.
Making these changes will help greatly to protect your child's tooth enamel, and give saliva a chance to do its job protecting it. Your efforts will also increase your child's chances of better dental health in the future.
If you would like more information on dental erosion, please contact us today to schedule an appointment for a consultation. You can also learn more about this topic by reading the Dear Doctor magazine article "Dental Erosion."