Jordan Creek Pediatric Dentistry
1111 Jordan Creek Parkway,
West Des Moines IA 50266
(515) 222-1800
Find answers and other helpful dental topics in our digital library.
Posts for: May, 2016
By Jordan Creek Pediatric Dentistry
May 18, 2016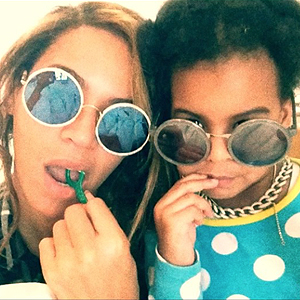 As is the case with most celebs today, Beyonce is no stranger to sharing on social media… but she really got our attention with a video she recently posted on instagram. The clip shows the superstar songstress — along with her adorable three-year old daughter Blue Ivy — flossing their teeth! In the background, a vocalist (sounding remarkably like her husband Jay-Z) repeats the phrase "flossin'…flossin'…" as mom and daughter appear to take care of their dental hygiene in time with the beat: https://instagram.com/p/073CF1vw07/?taken-by=beyonce
We're happy that this clip highlights the importance of helping kids get an early start on good oral hygiene. And, according to authorities like the American Dental Association and the American Academy of Pediatric Dentistry, age 3 is about the right time for kids to begin getting involved in the care of their own teeth.
Of course, parents should start paying attention to their kids' oral hygiene long before age three. In fact, as soon as baby's tiny teeth make their first appearance, the teeth and gums can be cleaned with a soft brush or cloth and a smear of fluoride toothpaste, about the size of a grain of rice. Around age 3, kids will develop the ability to spit out toothpaste. That's when you can increase the amount of toothpaste a little, and start explaining to them how you clean all around the teeth on the top and bottom of the mouth. Depending on your child's dexterity, age 3 might be a good time to let them have a try at brushing by themselves.
Ready to help your kids take the first steps to a lifetime of good dental checkups? Place a pea-sized dab of fluoride toothpaste on a soft-bristled brush, and gently guide them as they clean in front, in back, on all surfaces of each tooth. At first, it's a good idea to take turns brushing. That way, you can be sure they're learning the right techniques and keeping their teeth plaque-free, while making the experience challenging and fun.
Most kids will need parental supervision and help with brushing until around age 6. As they develop better hand-eye coordination and the ability to follow through with the cleaning regimen, they can be left on their own more. But even the best may need some "brushing up" on their tooth-cleaning techniques from time to time.
What about flossing? While it's an essential part of good oral hygiene, it does take a little more dexterity to do it properly. Flossing the gaps between teeth should be started when the teeth begin growing close to one another. Depending on how a child's teeth are spaced, perhaps only the back ones will need to be flossed at first. Even after they learn to brush, kids may still need help flossing — but a floss holder (like the one Beyonce is using in the clip) can make the job a lot easier.
If you would like more information about maintaining your children's oral hygiene, please contact us or schedule an appointment for a consultation. You can learn more by reading the Dear Doctor magazine articles "Top 10 Oral Health Tips For Children" and "How to Help Your Child Develop the Best Habits for Oral Health."
By Jordan Creek Pediatric Dentistry
May 03, 2016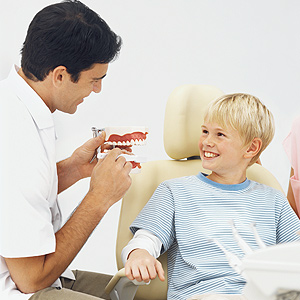 As a parent, the task of guiding your children through their physical, mental and social development can sometimes seem overwhelming. That doesn't have to be the case with their dental development — that's because we're one of your most reliable support partners for oral health. We're available not only to treat problems as they arise, but to also offer expertise and resources that can help you help your children establish life-long oral health.
Here are just a few ways we can help guide you along the path to a brighter dental future for your children:
Age One Dental Visit. A healthy life is built on healthy habits — and there's no better habit for great dental health than regular checkups. We recommend your child's first visit with us around their first birthday. Beginning this early not only helps us identify any emerging dental problems, it can also help the child — and you — become more comfortable with visiting the dentist. As they grow older they'll think nothing of their regular visits in the dentist's chair.
Help! While your child's first teeth coming in are exciting milestones, the teething process can be extremely frustrating. And, when those same primary teeth give way to their permanent versions, you'll develop a new set of concerns about their development. By establishing a long-term trust relationship with us, we can offer a wealth of knowledge and tips (as well as needed reassurance) concerning the various stages of your child's dental development.
"Do as I Do." Dental visits are important — but the greatest contribution to long-term dental care is a daily habit of proper brushing and flossing, which should start as soon as your child's first teeth begin to appear. "Modeling" is the best approach for instilling this habit in your child — performing hygiene tasks together and allowing them to learn how to do it from you. To be sure you're passing on the proper technique, we'll be glad to provide you with instruction on brushing and flossing — for your sake as well as theirs.
Although rewarding, raising a child is a tough job. When it comes to their oral health, though, we can help make that job a little easier.
If you would like more information on building the right foundation for your child's dental health, please contact us or schedule an appointment for a consultation. You can also learn more about this topic by reading the Dear Doctor magazine article "Dentistry & Oral Health for Children."