Jordan Creek Pediatric Dentistry
1111 Jordan Creek Parkway,
West Des Moines IA 50266
(515) 222-1800
Find answers and other helpful dental topics in our digital library.
Posts for: December, 2017
By Jordan Creek Pediatric Dentistry
December 20, 2017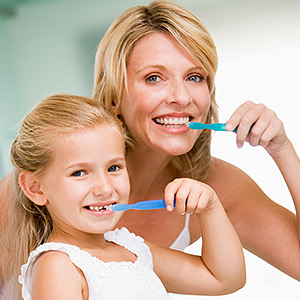 Between infancy and the onset of puberty, your child will grow one set of teeth, lose it and grow another; their jaw structure will also change dramatically. This rapid development sets the course for their oral health later in life.
That's why it's so important to care for their teeth and gums in these early stages through daily hygiene and regular dental visits for disease prevention and treatment. Hygiene is the cornerstone of this care, and should begin in earnest when your child's first tooth erupts in the gums, by first gently cleaning around the newly erupted teeth and gums after each feeding with a water-soaked gauze pad.
As they pass their first birthday you can switch to a small, soft-bristled toothbrush and just a smear of fluoridated toothpaste. Children should begin learning to brush around age 2, first by modeling you as you brush together. They should be adept enough by age 6 to brush on their own, at which time you can introduce flossing. We're more than happy to advise you on technique for both of these hygiene tasks.
Age one is also the time for them to begin regular dental visits for cleanings and checkups. This will help us stay ahead of any developing decay or other issues and perform preventive treatments like dental sealants or fluoride applications. It will also help your child become comfortable with the dental office, which can make it easier for them to develop a long-term habit of regular dental care.
There are also habits you should practice (or avoid) that support good oral health for your child. For example, you shouldn't allow them to sleep with a pacifier or a bottle filled with anything but water. Breast milk and formula contain some forms of sugar that bacteria can feed on; if this becomes too frequent it can result in higher acid levels that soften enamel and lead to decay. You should also take preventive actions to protect your child from teeth-damaging injuries like playing too close to hard furniture.
All these common sense measures support your child's oral development. You can then let Nature takes its course as your child develops a healthy mouth for a lifetime.
If you would like more information on oral care for children, please contact us or schedule an appointment for a consultation. You can also learn more about this topic by reading the Dear Doctor magazine article "Top 10 Oral Health Tips for Children."
By Jordan Creek Pediatric Dentistry
December 05, 2017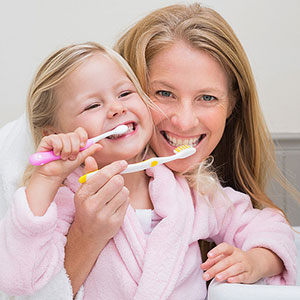 There are a lot of things we do without much conscious thought — habits we've developed over time. Some habits help streamline our lives for the good; others, though, hold us back or even harm us. A lot of these habits, both good and bad, form during our childhood years.
That's why it's important for you to guide your children into forming good habits. The goal is that when they're adults they'll "own" these habits, and their life will be healthier and happier because of them.
One particular area of habit-forming focus is dental care. It's essential your children develop good habits caring for their teeth and gums. The most important is a daily routine of brushing and flossing.
Brushing and flossing has one primary aim: to remove bacterial plaque, a thin film of food particles that builds up on tooth surfaces. Bacteria in plaque are the main cause for two potentially devastating diseases, tooth decay and periodontal (gum) disease. Allowing plaque to build up over just a few days can trigger an infection that inflames the gums or softens enamel leading to tooth decay. Left untreated these diseases can ultimately cause tooth and bone loss.
A daily habit of brushing and flossing, along with semi-annual professional cleanings, can drastically reduce a person's risk for these diseases. It's best to instill these habits and their importance as soon as your child's teeth begin to erupt in the mouth.
In the beginning, you'll be performing the habit for them: for children two and younger use a slight smear of toothpaste on the brush. As they get older, you can increase it to pea size. Eventually you'll want to help them learn to brush on their own. In this case, modeling the behavior — both of you brushing your teeth together — will have the biggest impact and help them see how important the habit really is.
Before you know it, brushing and flossing will become second nature, a habit they'll begin doing on their own without being told. Once instilled, it'll be a habit they'll practice long after they leave your care — and one they'll hopefully pass on to their own children.
If you would like more information on proper dental care for your child, please contact us or schedule an appointment for a consultation. You can also learn more about this topic by reading the Dear Doctor magazine article "How to Help Your Child Develop the Best Habits for Oral Health."