Jordan Creek Pediatric Dentistry
1111 Jordan Creek Parkway,
West Des Moines IA 50266
(515) 222-1800
Find answers and other helpful dental topics in our digital library.
Posts for: January, 2018
By Jordan Creek Pediatric Dentistry
January 19, 2018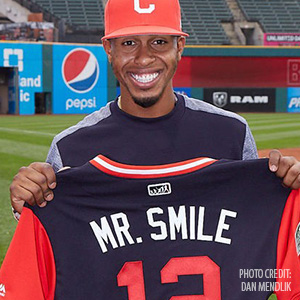 At the first-ever Players Weekend in August 2017, Major League Baseball players wore jerseys with their nicknames on the back. One player — Cleveland Indians shortstop, Francisco Lindor — picked the perfect moniker to express his cheerful, fun-loving nature: "Mr. Smile." And Lindor gave fans plenty to smile about when he belted a 2-run homer into the stands while wearing his new jersey!
Lindor has explained that he believes smiling is an important part of connecting with fans and teammates alike: "I've never been a fan of the guy that makes a great play and then acts like he's done it 10,000 times — smile, man! We've got to enjoy the game."
We think Lindor is right: Smiling is a great way to generate good will. And it feels great too… as long as you have a smile that's healthy, and that looks as good as you want it to. But what if you don't? Here are some things we can do at the dental office to help you enjoy smiling again:
Routine Professional Cleanings & Exams. This is a great place to start on the road toward a healthy, beautiful smile. Even if you are conscientious about brushing and flossing at home, you won't be able to remove all of the disease-causing dental plaque that can hide beneath the gum line, especially if it has hardened into tartar, but we can do it easily in the office. Then, after a thorough dental exam, we can identify any problems that may be affecting your ability to smile freely, such as tooth decay, gum disease, or cosmetic dental issues.
Cosmetic Dental Treatments. If your oral health is good but your smile is not as bright as you'd like it to be, we can discuss a number of cosmetic dental treatments that can help. These range from conservative procedures such as professional teeth whitening and bonding to more dramatic procedures like porcelain veneers or crowns.
Tooth Replacement. Many people hide their smiles because they are embarrassed by a gap from a missing tooth. That's a shame, because there are several excellent tooth-replacement options in a variety of price ranges. These include partial and full dentures, bridgework, and dental implants. So don't let a missing tooth stop you from being Mr. (or Ms.) Smile!
If you'd like more information about oral health or cosmetic dentistry, please contact us or schedule an appointment for a consultation. You can also learn more by reading the Dear Doctor magazine articles "Beautiful Smiles by Design" and "The Impact of a Smile Makeover."
By Jordan Creek Pediatric Dentistry
January 04, 2018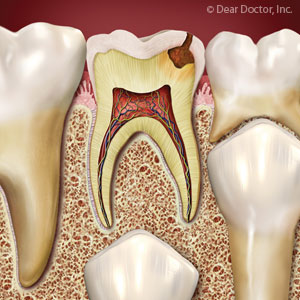 Primary (baby) teeth might not last long, but their impact can last a lifetime. Their first set of teeth not only allows young children to eat solid foods, but also guide permanent teeth to form and erupt in the proper position.
Unfortunately, primary teeth aren't immune to tooth decay. If the decay is extensive, the tooth may not last as long as it should. Its absence will increase the chances the permanent teeth won't come in correctly, which could create a poor bite (malocclusion) that's costly to correct.
If a primary tooth is already missing, we can try to prevent a malocclusion by installing a "space appliance." This keeps nearby teeth from drifting into the empty space intended for the permanent tooth. The best approach, though, is to try to save a primary tooth from premature loss.
We can often do this in much the same way as we would with a permanent tooth — by removing decayed material and filling the prepared space. We can also perform preventive applications like topical fluoride or sealants that strengthen or protect the tooth.
It becomes more complicated, though, if the pulp, the interior of the tooth, becomes decayed. The preferred treatment for this in a permanent adult tooth is a root canal treatment. But with a primary tooth we must also consider the permanent tooth forming below it in the jaw and its proximity to the primary tooth. We need to adapt our treatment for the least likely damage to the permanent tooth.
For example, it may be best to remove as much decayed structure as possible without entering the pulp and then apply an antibacterial agent to the area, a procedure known as an indirect pulp treatment. We might also remove only parts of the pulp, if we determine the rest of the pulp tissue appears healthy. We would then dress the wound and seal the tooth from further infection.
Whatever procedure we use will depend on the extent of decay. As we said before, our number one concern is the permanent tooth beneath the primary. By focusing on the health of both we can help make sure the permanent one comes in the right way.
If you would like more information on caring for children's primary teeth, please contact us or schedule an appointment for a consultation. You can also learn more about this topic by reading the Dear Doctor magazine article "Root Canal Treatment for Children's Teeth."