Jordan Creek Pediatric Dentistry
1111 Jordan Creek Parkway,
West Des Moines IA 50266
(515) 222-1800
Find answers and other helpful dental topics in our digital library.
Determining Your Risk For Tooth Decay — And Reversing It
By Jordan Creek Pediatric Dentistry
December 11, 2014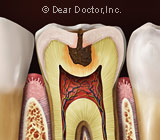 Dental decay is an infectious and very common disease, but it's also very preventable. Today's dentistry has many tools at its disposal to accurately determine your risk for tooth decay, lower it, turn it around, and completely prevent it. What's more, we can even reverse early decay. You might never have to see or hear the drill again.
Striking the right balance between factors that promote oral health and those that cause disease is of the utmost importance. And knowing whether or not you have indicators of disease or risk for tooth decay is a great place to start.
We will scientifically calculate your risk for tooth decay by:
Recording and monitoring your oral and dental health: Our risk assessment/evaluation form allows us to gather information about critical dental health habits. Oral hygiene habits, use of fluoride toothpaste, tobacco smoking, frequent snacking on sugary foods and beverages, and past experience of decay are all examples of disease indicators that will help gauge your level of risk. For example, using fluoride toothpaste decreases your risk, but smoking and between-meal snacking increases it.
Testing for decay producing bacteria: You've probably heard of dental bacterial plaque, the biofilm that sticks to your teeth, forming in the tiny little grooves on the biting surfaces of the teeth where decay starts (and along the gum line). Today, acid-producing bacteria responsible for causing decay can be tested by simply sampling your biofilm on a swab, and placing it in a meter to accurately determine acid-producing activity. A high number indicates high risk. You can see it for yourself in less than a minute.
Saliva testing: A simple history will tell us whether your mouth is dry or moist most of the time. A saliva test will tell us if your saliva is acidic or neutral. A dry acidic mouth promotes decay, while a moist neutral mouth with healthy saliva promotes health. Measuring salivary "pH," the measure of acidity, is another factor for determining your risk for decay and reversing it. Special rinses can help reduce decay-producing bacteria and reduce acidity.
Very early decay detection: Modern ultra-low-dosage x-ray equipment allows us to determine the very earliest signs of decay. Decay that is detectable with the naked eye (or feel with a dentist's instrument, an explorer) is already at an advanced stage. Catching the disease very early with the help of this sophisticated equipment can allow us to reverse early decay before it has even turned into cavities. It can actually be reversed with remineralizing fluids, rinses that put calcium back into the tooth surfaces reforming and hardening them.
This is a new and exciting era in the fight against tooth decay and we have all the tools to determine your decay risk and reverse it.
If you would like us to determine your risk for tooth decay, please call the office to schedule an appointment. To read more about disease indicators and risk factors for dental caries, read the Dear Doctor magazine article "Tooth Decay: How To Assess Your Risk."