Jordan Creek Pediatric Dentistry
1111 Jordan Creek Parkway,
West Des Moines IA 50266
(515) 222-1800
Find answers and other helpful dental topics in our digital library.
Posts for: February, 2014
By Jordan Creek Pediatric Dentistry
February 21, 2014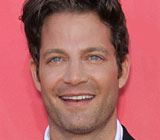 When it comes to dental health, you might say celebrity interior designer and television host Nate Berkus is lucky: Unlike many TV personalities, he didn't need cosmetic dental work to achieve — or maintain — his superstar smile. How did he manage that? Nate credits the preventive dental treatments he received as a youngster.
"I'm grateful for having been given fluoride treatments and sealants as a child. Healthy habits should start at a young age," he told an interviewer from Dear Doctor magazine. We couldn't have said it better — but let's take a moment and examine exactly what these treatments do.
Fluoride treatment — that is, the topical (surface) application of a concentrated fluoride gel to a child's teeth — is a procedure that's often recommended by pediatric dentists. Although tooth enamel is among the hardest substances in nature, fluoride has been shown to make it more resistant to tooth decay. And that means fewer cavities! Studies show that even if you brush regularly and live in an area with fluoridated water, your child could still benefit from the powerful protection of fluoride treatments given at the dental office.
Another potent defense against cavities is dental sealants. Despite your child's best efforts with the toothbrush, it's still possible for decay bacteria to remain in the "pits and fissures" of the teeth — those areas of the molars, for example, which have tiny serrated ridges and valleys where it's easy for bacteria to grow. Dental sealants fill in and protect vulnerable areas from bacterial attack, greatly decreasing the risk that future dental treatment will be required.
Why not take a tip from our favorite celebrity interior designer, and ask about cavity-preventing treatments for your children's teeth? If you would like more information about fluoride treatments or dental sealants, please contact us for a consultation. You can learn more in the Dear Doctor magazine articles "Topical Fluoride" and "Sealants for Children."
By Jordan Creek Pediatric Dentistry
February 05, 2014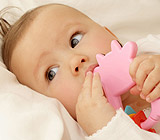 Throughout your child's lifetime, you will experience many important milestones together, some more pleasant than others. Teething is one of those notable milestones, and unfortunately, this "rite of passage" may cause your baby to feel uncomfortable at times.
Teething describes the tooth eruption process by which baby teeth emerge through the gums and into the mouth. It usually begins when your baby is between six and nine months, but may start as early as three months or as late as twelve months. Most children will have all 20 baby teeth by agree three, with the lower front teeth erupting first, followed by the two upper front teeth and then the molars.
Every baby will experience teething differently, but the following symptoms are very common:
Irritability
Biting and gnawing
Gum swelling
Chin rash
Disrupted sleeping patterns
Ear rubbing
Drooling
Decreased appetite
Many babies make it through the teething phase without much discomfort, but sometimes the pain can be substantial. If your baby is lucky enough to experience no discomfort, he or she will likely demonstrate some of the classic symptoms of teething, such as swollen gums and drooling. You may also notice that he or she will bite or chew anything and will wake up frequently during the night. These symptoms occur most often the week the teeth actually break through the gums, beginning four days before the eruption and lasting about three days after.
Here are a few suggestions to help reduce your baby's discomfort during teething:
Teething rings: The American Academy of Pediatric Dentistry (AAPD) recommends that parents use a clean, chilled, rubber teething ring or cold wet washcloth.
Chilled pacifiers: Be careful not to freeze teething rings or pacifiers, as ice can burn if left in place too long.
Gum massage: Massaging inflamed gums with your clean finger may be helpful to reduce the pressure.
Over-the-counter medicine: If pain continues, you can give your baby acetaminophen or ibuprofen, but check with a pediatrician or pharmacist for the correct dosage. The medicine should be swallowed and not massaged into the sore areas, as this, too, can burn.
Other unpleasant side-effects of teething include diarrhea, rashes and fever. Though many have reported these symptoms to be normal, if your infant has fever or diarrhea during teething or continues to experience pain, you should schedule an appointment with our office. We'll examine your baby to ensure that the discomfort is related to teething and not something more serious.
If you would like more information about teething, please contact us for a consultation. You can also learn more by reading the Dear Doctor magazine article "Teething Troubles."