Jordan Creek Pediatric Dentistry
1111 Jordan Creek Parkway,
West Des Moines IA 50266
(515) 222-1800
Find answers and other helpful dental topics in our digital library.
Posts for: March, 2015
By Jordan Creek Pediatric Dentistry
March 16, 2015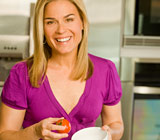 Cat Cora is a world-class chef, restaurateur, best-selling author, and philanthropist — on top of being the first female chef on the hit television show Iron Chef America. She is also the mother of four active young sons. And while all these important roles require her daily attention, she makes oral health a top priority for herself and her family through diet, brushing, flossing and routine visits to the dentist.
During a recent interview with Dear Doctor magazine, Cat revealed that she had her wisdom teeth removed when she was in her thirties and another tooth extracted and replaced with a dental implant. When asked to compare the two experiences, Cat said that the implant was "much easier for me." She went on to say, "It feels very natural" and "now, I don't even think about it."
Some may be surprised by Cat's response; however, we find it to be a quite common one.
There is no question that over the last two decades, dental implants have revolutionized tooth replacement and the field of dentistry. A dental implant, used to replace missing teeth, is placed in the jawbone with a minor surgical procedure. What's amazing is that over time these dental implants actually fuse with or integrate into the bone, thus making them an ideal permanent solution for replacing a missing tooth. They are typically made of commercially pure titanium, a substance that has been used for medical and dental implants for years. The crown, the part above the gum tissues, is attached to the implant via a retaining screw and a connecting piece called an abutment. The crown itself is artistically crafted using porcelain to mimic the look and feel of a natural tooth — just as Cat Cora describes.
To learn more about dental implants, continue reading the Dear Doctor magazine article "Dental Implants, Your Third Set of Teeth." Or you can contact us today to schedule an appointment so that we can conduct a thorough examination and discuss what treatment options will be best for you. And to read the entire interview with Cat Cora, please see the article "Cat Cora."
By Jordan Creek Pediatric Dentistry
March 06, 2015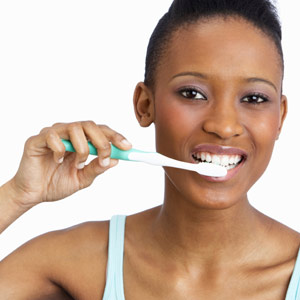 Daily personal care is essential for optimal oral health. Brushing and flossing in particular keep bacteria and acid, the main causes of dental disease, at manageable levels. But to gain the most benefit from your personal care, you need to perform these tasks effectively with the proper techniques and equipment.
For most people brushing begins with a soft-bristled, multi-tufted toothbrush with fluoride toothpaste that helps strengthen enamel. You should hold the brush at a slight angle and brush with a gentle motion to remove plaque, the main cause of gum disease and tooth decay — if you're too aggressive by brushing too hard or too long, you could damage the gums. You should brush no more than twice a day for two minutes, and at least thirty minutes to an hour after eating to allow saliva time to neutralize any remaining acid and help restore minerals to enamel.
Although some people find flossing difficult to perform, it remains an important component of daily care. Flossing once a day removes plaque from between teeth where a brush can't reach. If you need help with your technique using string floss, we'll be glad to provide instruction at your next visit. If you have bridges, braces or other dental restorations or appliances that make string flossing difficult, you might consider other options like floss threaders or a water flosser.
There are also dietary and lifestyle choices you can make to enhance your daily care: limit sugary or acidic foods to mealtime and avoid between meal snacks to reduce bacteria and acid in the mouth; drink water to keep your mouth moist, which will inhibit plaque buildup; and stop tobacco use, excessive alcohol consumption and chewing habits like clenching or biting on hard objects. Above all, be sure to visit us at least twice a year for cleanings and checkups, or when you notice abnormalities like bleeding gums, pain or sores.
Keeping your teeth and gums healthy can be done, but it requires a daily care commitment. Performing these hygiene habits in an effective manner will help preserve your teeth for a lifetime.
If you would like more information on effective oral care, please contact us or schedule an appointment for a consultation.